Monday, 02 December 2013 11:46
Over 100 youth, staff, and supporters turned out to Wilson Senior High School on a chilly Saturday morning in November to dance for the homeless. LAYC's first Dance-a-thon for the Homeless raised over $14,000 to support programs that work with homeless youth. The Dance-a-thon takes the place of the annual walk for the homeless LAYC has participated in for years. Attendees enjoyed morning refreshments, Zumba class, green screen photo booth, door prizes, silent auction, and raffle. Dancers grooved to classic group line dances, top 40 of all eras, bachata, salsa, and more.
LAYC President & CEO Lori Kaplan welcomed NBC4 Reporter and Anchor Erika Gonzalez as the event chair and host, as well as TV and radio personality Pedro Biaggi. LAYC thanks C&G Imports for their generous donation and continued support of the center's activities.
Last Updated on Monday, 02 December 2013 12:38
Monday, 02 December 2013 10:53
Youth seeking out a paid position with the opportunity to earn a GED and add worthwhile experience to their resume find a good fit in LAYC's newest program: the Montgomery County Conservation Corps (MCCC). MCCC is a member of The Corps Network, a 127-member comprehensive youth development program that provides participants with job training, academic programming, leadership skills, and additional support through a strategy of service that improves communities and the environment. Corps programs are a direct descendant of the Depression-era Civilian Conservation Corps, which mobilized about three million young men who dramatically improved the nation's public lands while receiving food, shelter, education, and a modest stipend.
LAYC's MCCC opened March 1, 2013, and is now working with its second 19-member youth cohort. Of these 19, seven are returning members from the initial cohort and three are junior crew chief leaders. According to program manager Jacob Newman, "Like many corps programs, we operate with an emphasis on service and opportunity with the expectation of hard work and low pay." The participants have the opportunity to alternate between largely hands-on projects contributing to environment conservation efforts and classroom work to attain a GED. With five members having received their GED already and all members having shown improvement in both literacy and numeracy, the program has already seen success. "It changed my whole life completely", Max Fuentes shared with The Corps Network. Max is grateful for the chance to receive counseling, job readiness training, a GED, and the kind of hands-on, hard work he needed and now believes in. "I'm focusing on my future and helping out the environment...now I want to help the community, not destroy it."
Max holds true to this as a junior crew chief leader, along with Edgar Romero, who produced videos for the program and designed its logo. Edgar describes the corps as "a program that I want to be a part of for as long as I can. MCCC is like a family." Edgar was recently a keynote speaker at LAYC's 3rd Annual Breakfast for Heroes and has been profiled in El Tiempo Latino and The Corps Network.
Watch a slideshow of MCCC's work this year, below:
Last Updated on Monday, 02 December 2013 11:21
Wednesday, 16 October 2013 09:11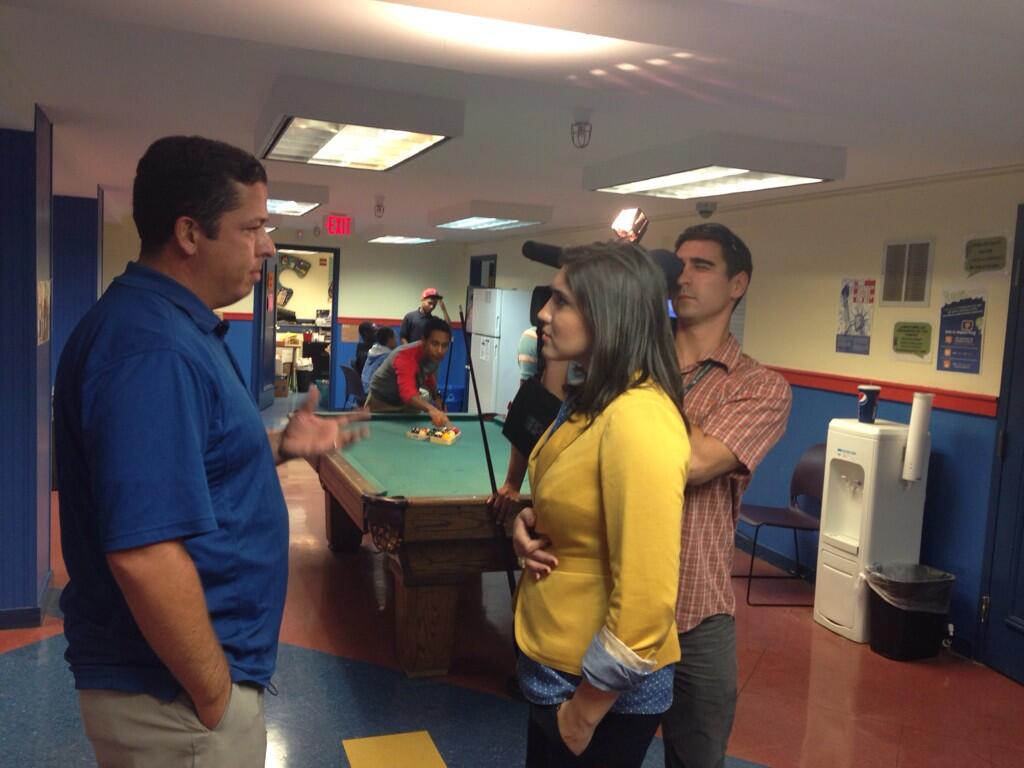 The Latin American Youth Center in D.C. received a $250,000 check from Capital One bank to help keep the center staffed during the government shutdown. The money should last the center about 10 more days.
Please visit NBC4 to view the complete video.
Last Updated on Wednesday, 16 October 2013 09:18
Tuesday, 15 October 2013 00:00
By Sarah Anne Hughes on Oct 15, 2013 3:45 PM 
Thanks to a private business, not Congress (naturally), the Latin American Youth Center has been able to bring back furloughed staff and reinstate programs they had to cut because of the federal government shutdown.
Capital One Bank donated $250,000 to the Columbia Heights-based nonprofit to restore their regular programming, which includes educational, art and workforce investment programs, through the end of the month. "The LAYC staff is back at work, over 500 youth and family members will be walking through our many doors today and the entire community has the services and supports that they rely on," president and CEO Lori Kaplan said in a release.
As DCist previously reported, LAYC furloughed much of its staff, including all senior leaders, last week, asking them to serve as volunteers. "The reckless battle going on in Congress is impacting our services," Kaplan said at the time.
"It has been an eye-opening experience for us to see how deeply the impact of the government shutdown is being felt by local non-profits and the clients their programs serve. The Latin American Youth Center, and organizations like it, whose programs are federally funded, have been stretched to their limits," Jon Witter, president of retail and direct banking at Capital One, said in a release. "As Washington, D.C.'s hometown bank, we know firsthand the critical role the LAYC youth center plays in the local community. Knowing how important it is to ensure continuity of supportive programs like homeless services and supports, afterschool programs, and workforce development training for at-risk youth and their families, we felt it was vital to help LAYC continue to serve the region through this difficult time."
Please visit the DCist.com to view the complete article.
Last Updated on Wednesday, 16 October 2013 09:02
Tuesday, 15 October 2013 00:00
By Vanessa Small, Published: October 15
Some local businesses are coming to the rescue of charities in need of cash during the partial federal government shutdown.
Capital One gave a $250,000 donation to return to work the furloughed staff of the Latin American Youth Center.
With contract reimbursements on hold due to the federal government shutdown, LAYC had insufficient cash to operate at full capacity. Last week the Columbia Heights nonprofit, which offers youth development services to 5,000 children each year, announced it had reduced its operations to essential services.
The gift from Capital One will restore the charity's usual programming, which includes job training, education and mentoring.
Capital One also gave $100,000 in response to a challenge grant issued today by United Way for the National Capital Area that will create an emergency assistance fund for area charities.
The funds will provide food resources and short -term financial assistance with rent and mortgage payments, and overdue utility bills, Rosie Allen-Herring, head of United Way National Capital Area, said in a statement.
The money will be granted to four charities that provide food assistance, which include Capital Area Food Bank, SHARE Food Network, Meals on Wheels and Martha's Table.
"This generosity has never been more important than it is today," said Nancy Roman, president and chief executive of the Capital Area Food Bank.
Pepco has also donated $15,000 to the fund which will support Mary's Center, Greater Washington Urban League and Interfaith Works.
Grantees are not expected to pay back the money.
Emergency funds during the shutdown could be a life-saver for groups such as Sasha Bruce Youthwork, which announced last week that it furloughed nearly half its employees, reduced services and began preparing to shutter operations if federal reimbursements do not start flowing soon. Since the announcement, the group, which operates a homeless shelter for youth, said it received $9,000 in emergency funds from individuals so far.
Please visit the Washington Post to view the complete article.
© The Washington Post Company
Last Updated on Wednesday, 16 October 2013 09:10
<<

Start

<

Prev

1

2 3 4 5 6 7 8 9 10 Next > End >>


Page 1 of 24